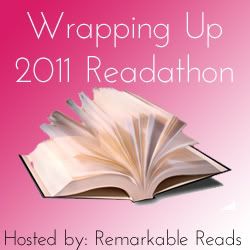 Jessie, at
Remarkable Reads
, is hosting the Wrapping Up 2011 Readathon! It starts today and goes until the end of the year! If you wanna join just head over to her blog and add your name to the linky, and if you want to tweet use #WU2011R so we can all find your updates!
This post is where we'll update what we've read and what we're planning on reading :)
Currently Reading:
To Be Read:

(By April)
Forgotten by Cat Patrick
Clarity by Kim Harrington
Blood Magic by Tessa Gratton
(By Karina)
Anything from
my last IMM
!
and all books checked out from the library...
Read:
(By Karina)
Across the Universe by Beth Revis (4/5)
Before I Fall by Lauren Oliver (3/5)
Girl Parts by John M. Cusick (2/5)
White Cat by Holly Black (3.5/5)
Red Glove by Holly Black (2.34/5)
Total Pages: 1,721
(By April)
The Near Witch by Victoria Schwab (4 out of 5)
Vanish by Sophie Jordan (4.5 out of 5)
Sweetly by Jackson Pearce (5 out of 5)
A Need So Beautiful by Suzanne Young (4 out of 5)
All These Things I've Done by Gabrielle Zevin (3.5 out of 5)
Witch Song by Amber Argyle (4 out of 5)
How to Save a Life by Sara Zarr (5+ out of 5)
The Scorpio Races by Maggie Stiefvater (5 out of 5)
The Name of the Star by Maureen Johnson (3.5 out of 5)
The Girl Who Circumnavigated Fairyland in a Ship of her Ow

n Making by

Catherynne M. Valente

(4 out of 5)
Total Pages: 3,136
*12-27-11* haha good thing I'm not competing against April, or else I would be losing so hard. In pages and in number of books. And my ratings just kind of go down hill too...sadness.