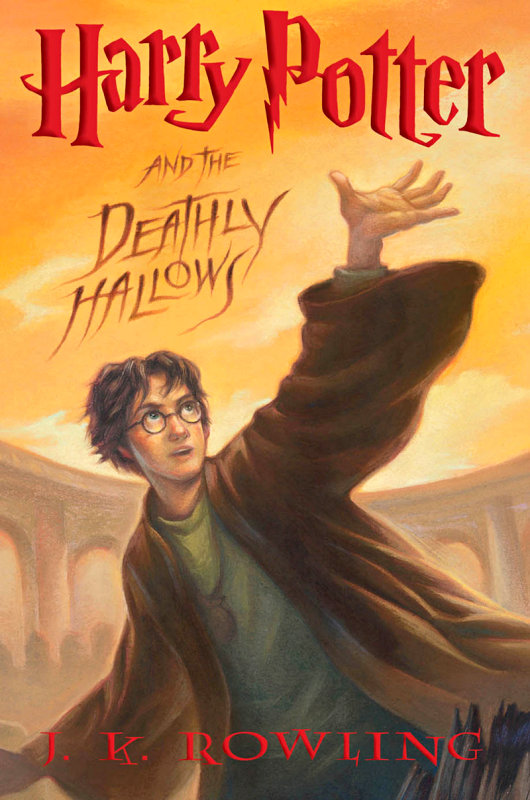 Title: Harry Potter and the Deathly Hallows
Author: J.K. Rowling
Pages: 759
Hardcover, Scholastic Publashing
Goodreads
summary:
Readers beware. The brilliant, breathtaking conclusion to J.K. Rowling's spellbinding series is not for the faint of heart--such revelations, battles, and betrayals await in Harry Potter and the Deathly Hallows that no fan will make it to the end unscathed. Luckily, Rowling has prepped loyal readers for the end of her series by doling out increasingly dark and dangerous tales of magic and mystery, shot through with lessons about honor and contempt, love and loss, and right and wrong. Fear not, you will find no spoilers in our review--to tell the plot would ruin the journey, and Harry Potter and the Deathly Hallows is an odyssey the likes of which Rowling's fans have not yet seen, and are not likely to forget. But we would be remiss if we did not offer one small suggestion before you embark on your final adventure with Harry--bring plenty of tissues.
The heart of Book 7 is a hero's mission--not just in Harry's quest for the Horcruxes, but in his journey from boy to man--and Harry faces more danger than that found in all six books combined, from the direct threat of the Death Eaters and you-know-who, to the subtle perils of losing faith in himself. Attentive readers would do well to remember Dumbledore's warning about making the choice between "what is right and what is easy," and know that Rowling applies the same difficult principle to the conclusion of her series. While fans will find the answers to hotly speculated questions about Dumbledore, Snape, and you-know-who, it is a testament to Rowling's skill as a storyteller that even the most astute and careful reader will be taken by surprise.
A spectacular finish to a phenomenal series, Harry Potter and the Deathly Hallows is a bittersweet read for fans. The journey is hard, filled with events both tragic and triumphant, the battlefield littered with the bodies of the dearest and despised, but the final chapter is as brilliant and blinding as a phoenix's flame, and fans and skeptics alike will emerge from the confines of the story with full but heavy hearts, giddy and grateful for the experience. --Daphne Durham
My review:
**spoiler alert**
This was a really good book. It was the best of the series, filled with so much emotion.
In the beginning you automatically know something bad is going to happen because, hello? mundungus coming up witht that idea? yeah right.
when hedwig dies, its so sad, you don't suspect it to happen because she was Harry's first friend besides Hagrid. Then when you learn of Moody's death, it comes as a shock because Moody was a really good auroa. George got his ear cut off was a little unexpected and all this happened in like the first 50 pg or so.
they're adventure is amazing and unbeliveable. When Ron ran off, it was a shock. Ronald Wesealy had just left his two best mates and apparated to Bill's house. Horrible. when hermione and harry found his old house, you were touched.
The death of brave Dobby was a tradegy.
The ending was incredibly. A true fight for justice it was. Harry's sacrifice was sad yet you felt proud because he was doing it to save them all. Percy's reunion with his family was heart-warming. The re-intro to old favorite characters was fun.
Harry dieing was unexcpeted. His coming back was unreal. The fight was amazing, it made you want to join in. Neville defeating Nagnia was a classical. Good old Neville ccoud always be counted on.
The deaths of Tonks and Lupin was sad, espically knowing they'd left their first and only son Teddy. Deja vu when harry found out he was grandfather.
Belatirx death was a victory, Fred's death was heartbrakening.
The end was indescribable. You knew it had to end, yet you didn't want to let go, you wanted to know more, the adventure to last.
The epilouge was heart warming. They children were adorable and the family was picture perfect.
All in all, this was a turely amazing book.
And I'm just so sad that this is the last one of the series!
-A